Rug Cleaning
Rug cleaning involves removing dirt, dust, and stains from rugs and carpets to improve their appearance and extend their lifespan. There are several methods for cleaning rugs, including vacuuming, steam cleaning, and dry cleaning. The method used will depend on the type of rug and the nature of the soil or stain. It is important to follow the manufacturer's care instructions when cleaning rugs to avoid damaging them.
Rug Cleaning and Repair Best Prices and Quality Guaranteed
We use the best professional equipment. We also offer hand washing for delicate rugs.
We clean and repair all rugs: Oriental, Persian, Tibetan, Chinese, Turkish, Antique, Area Rugs, Silk, Wool, Polyester, Leather, Shag, Modern, Vintage, Tufted, Needle Point, Tapestries etc.
Our services are offered to residential and commercial accounts: rug dealers, importers, museums, etc.
You can count on our company to provide the best rug cleaning, repair, stain, odor and dust removal. We are world famous for repair and any color correction services. Our services are far superior to any other company. We also specialize in mold, moth and water damage treatment.
In order to get the best result, we will analyze and devise a cleaning process for each and every rug.
Our Cleaning Process:
PRE-TREATMENT
Each rug received in our factory goes through a thorough preliminary inspection to determine the condition of the rug. This examination is important because it prevents damages. After examination we decide which specific treatments each rug needs prior to wash and which services is appropriate for each rug. Our inspection will pay attention to:
Condition
Wear and Tear areas
The nature of discoloration and stains
Pinpointing stain and analyses of stain origin
Suggested repair and restoration services
DUSTING
Removal of dusting is our specialty. Our dusting is far superior to any other companies. With our customized, state of art dusting equipment we are able to remove almost 100% of dust during our rug cleaning process. As a result of our unique cleaning quality, you will have clean and healthy environment for yourself, your family and your pets.
Our dusting includes tumbling, beating and totally unique dust extraction process.
RUG CLEANING AND WASHING
We wash the rugs on both sides with our proprietary formulas. After that, rug is subjected to thorough rinse for removal of all detergent residues.
SOAKING
If the rug has pet urine, odor or any kind of heavy and difficult to remove soils and stains, soaking process becomes necessary. This process takes one or two days and enables us to remove all kinds of dirt and odor from the rug.
LUSTER WASH
This special wash will allow your rug to become brighter and shinier. It's very important for Persian rugs to look their best.
BRUSHING
This process is done with soft plastic brushes after washing and rinsing. It preserves the wool fiber and the tightness of naps.
DRYING
We dry rugs in our climate controlled drying room to remove the moisture and prevent mold and mildew. We use the humidifiers and fan heathers for movement of air. Drying time depends on a rug and can take from 6 to 24 hours. Shortening the drying time can damage the rug fiber.
FINAL INSPECTION
In the end, we perform a thorough final rug inspection. Our goal is 100% customer satisfaction. It's that final touch that means so much.
Antique Rugs are usually colored with vegetable dyes. We use special shampoo to make sure colors will not bleed during the cleaning process. Antique rugs are cleaned mostly by hand and we use a lot of water for rinsing. After cleaning the drying process is fast, resulting in beautiful, softer and more vibrant colors of your rug.
Silk Rugs require special cleaning because they are made out of unstable vegetable dyes and ink. You want to make sure the texture of the silk will stay soft and shine preserved. Silk rugs need very gentle one direction brushing so the design stays sharp and keeps the rug vibrant and shiny. Some rugs are made from artificial silk which looks like silk but it's not. Silk alike looking rugs require different processes. Mistakes in choosing a proper process will result in heavy color run. This is when expertise in cleaning silk rug is so important.
Leather Rugs are treated with a special detergent. We dust the leather and dry clean it. After drying it we do a special brushing to make it fluffy.
New Rugs, Chinese Rugs and Chemically Dyed Rugs always require high level of expertise to choose a proper cleaning treatment.
For Shag Rugs and White Rugs, the most important part is to remove the dust from inside of the rug using a tumbling machine prior to washing. We have special shampoos for this type of rugs to prevent browning.
Tufted Rugs in China and India are made with inferior glue. As rug is getting old, glue makes it smell and on occasion glue turns into white powder. In this instance, we heavily recommend removing the backing and doing regluing. For Tufted rugs we provide a surface wash with a steam machine, 600 PSI minimum power for injecting steam into fabric and after this it should be very thoroughly clean.
When cleaning Needle Point Rugs, we use special detergents. After cleaning Needle Point rugs, often blocking is required to keep the shape.
For all tapestries we use hand wash.
Rug Wash provides rug cleaning for:
Heriz rugs
Hamadan rugs
Mahal rugs
Zanjan rugs
Malayer rugs
Tabriz rugs
Persian Bijar rugs
Persian Mahal rugs
Torkis Ousak rugs
Persian Veramin rugs
Persian Joshegan rugs
Persian Senneh Malayer rugs
Isfahan rugs
Kashan rugs
Kerman rugs
Mashad rugs
Qom rugs
Nain rugs
Shiraz rugs
Bakhtiari rugs
Sarouk rugs
Baluch rugs
Gabbeh rugs
Kilim rugs
Turkish rugs
Moroccan rugs
Indian rugs
Chinese rugs
And more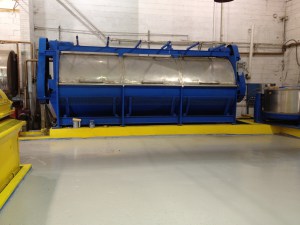 Our Facility & Rug Cleaning Equipment
In 2012, Rug Wash, Inc. purchased a simple washing machine that included three departments and turned it into a custom made Oriental rug cleaning machine. Our rug cleaning machines have the capacity of washing 1,000 sq ft of rug and holding 4,000 gallons of water in only one load. Each load takes about an hour to finish. This wonderful custom made rug cleaning machine leaves rugs looking sparkling clean.
Click here for more information.
Click here for Rug Cleaning Tips
Click here to view some of our Rug Cleaning Videos
We at Rug Wash maintain the highest standards. We perform a thorough final inspection to each and every rug. Our goal is customer satisfaction. We don't hesitate to repeat any steps that might be necessary to provide you with the best results possible. It's that final touch that means so much.
FREE Estimates
FREE Pick-Up & Delivery
FREE Drop-Off
NO Mileage Charges
NO Hidden Charges
Certified technicians
Fully Licensed, Insured and Bonded
Rug Wash, Inc. is located in New York City but offer our services nationwide. Contact us for more information (800) 784-9274