Rug Cleaning at Rug Wash in NYC
The Most Professional Rug, Carpet and Upholstery Cleaning
We are experts in cleaning Oriental rugs, Persian rugs, Chinese rugs, Tibetan rugs, all other types of area rugs, wall to wall carpets and upholstery.
In our facilities we clean modern and antique rugs for residential and commercial accounts, rug dealers and commercial importers.
Rug Wash is well known for using only the most tried and tested rug and carpet cleaning methods in order to achieve complete cleanliness along with eliminating any stains, odors, germs and allergens.
Call Rug Wash of New York City (NYC) for thorough and careful Rug Cleaning and Carpet Cleaning. We specialize in cleaning Oriental rugs and Persian rugs for residential and commercial accounts. Rugs and Carpets are shampooed for deep soil extraction, odor and spot removal. Our rug cleaning service factory is located minutes from Manhattan, New York but we provide rug cleaning services throughout the nation including New Jersey, Connecticut, California, Virginia and Washington DC!
Call us today for a FREE Estimate: 800 Rug Wash / (800) 784-9274
Our Services:
Our job as carpet cleaning company primarily involves the cleaning and maintenance of rugs. While the terms "carpet" and "rug" are often used interchangeably, in this context, a carpet refers to the larger, wall-to-wall floor covering typically found in homes and commercial spaces. Here are some of our key responsibilities:
Cleaning Services: We are responsible for performing various cleaning tasks on rugs brought to our cleaning company. This includes vacuuming, spot cleaning, deep cleaning, and stain removal using appropriate equipment, cleaning agents, and techniques.
Inspection and Assessment: We examine rugs for any visible damages, stains, or special cleaning requirements. We assess the rug's condition and determine the appropriate cleaning methods and solutions to use.
Preparing Rugs for Cleaning: We prepare rugs for the cleaning process by removing loose dirt, debris, and dust through thorough vacuuming. We may also perform additional steps such as pre-treatment of stains or applying specialized cleaning solutions.
Operating Cleaning Equipment: We operate a variety of cleaning equipment such as steam cleaners, extraction machines, rotary scrubbers, or dry-cleaning systems. We ensure the proper use of equipment to effectively clean and restore the rugs while following safety guidelines.
Stain and Odor Removal: We are skilled in identifying different types of stains and odors on rugs. We use appropriate techniques and products to remove stains, neutralize odors, and restore the rug's appearance and freshness.
Handling Delicate Materials: Some rugs may be made of delicate materials or have specific cleaning requirements. We have the knowledge and expertise to handle such rugs with care, using professional specialized cleaning methods.
Quality Control: Ensuring the quality of the cleaning service is crucial in our company. We inspect rugs after cleaning to ensure that all stains and dirt have been properly removed, and the rug meets the company's standards before it is returned to the customer.
Customer Service: We interact with customers, providing information on the cleaning process, advising on maintenance techniques, and addressing any concerns or questions the customers may have. Out excellent customer service skills are important in maintaining your satisfaction.
Overall, our job is to ensure the effective and thorough cleaning of rugs, paying attention to details, using appropriate techniques, and delivering high-quality service to customers.
For 30 years Commercial Carpet Cleaning by Rug Wash, Inc. has provided commercial rug & carpet cleaning to New York, Connecticut and New Jersey. We offer the lowest rates and deals for corporate accounts, with a large selection of rug & carpet cleaning and maintenance services. We clean rugs & carpets for commercial buildings, office buildings, department stores, hotels, galleries, malls, restaurants, museums, doctor offices and more! Specialties include: stain removal, maintenance, and cleaning of badly beaten rugs / carpets as well as high traffic area rug cleaning.
Click here for more information.
---
We at Rug Wash Inc. maintain the highest standards. We perform a thorough final inspection to each and every rug. Our goal is customer satisfaction. We don't hesitate to repeat any steps that might be necessary to provide you with the best results possible. It's that final touch that means so much.
If you are not fully satisfied with your service, neither are we! It's rare we have an unsatisfied customer but if you aren't happy with our Rug Wash Service, simply let us know within 24 hours of a service and we will happily return and re-clean the area free of charge.















| | |
| --- | --- |
| | |
| New York Times Square hotel | New York Bowery hotel |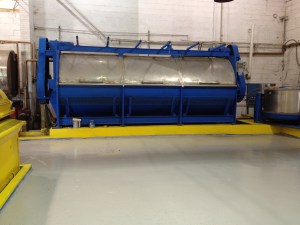 In 2012, Rug Wash, Inc. purchased a simple washing machine that included three departments and turned it into a custom made rug washing machine for Oriental rugs and Persian rugs.  Our rug cleaning machines have the capacity of washing 1,000 sq ft of rug and holding 4,000 gallons of water in only one load.  Each load takes about an hour to finish. This wonderful custom made rug washing machine leaves rugs looking sparkling clean.
Click here for more information.
---
Why Choose Us?
| | |
| --- | --- |
| FREE Pickup & Delivery | Experienced & Trained |
| Our professional staff will pick up the rug from you, bring it to our cleaning facility and deliver it back to you once it's ready. It's 100% free of charge. | All our technicians are fully trained and very experienced in cleaning all types of area rugs, wall to wall carpets and upholstery. We are certified and insured. |
| | |
| No Hidden Fees | Highly Rated |
| Our pricing is totally transparent so you can rest assured there will be no extra charges. No awkward moments guaranteed. | Being in rug and carpet business for more than 60 years is a proof of high quality service. Our happy customers confirm it. |