Shearing (Shaving) A Rug
About Shearing (Shaving) Rugs
In the old days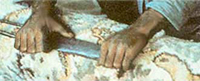 , rugs were shaved by hand using scissors, with today's technology, we can shave a rug quickly and efficiently to the desired shaving size.
At Rug Wash Inc., w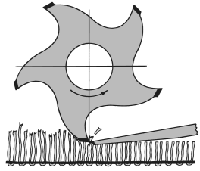 e have a computerized shearing process that can be performed at our facility.
We are able to shear a rug to all degrees from 1% to no pile.
We use state of the art machines to shave rugs to the exact thickness desired. Our machines contain a memory function which allows us to shave a number of rugs a certain way.
Why Shave A Rug?
1.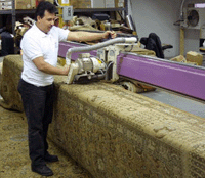 If the color is sun faded, by lightly shaving we can get to the tip of the color to bring back the original, bright, vibrant color.
2. Over time, wearing of the rug causes the design to appear dull, by light shaving, we can bring back the original bright design.
3. Shearing is also used to thin out rugs which a number of customers prefer.
4. New rugs are shaved to give it an older look.
5. Some people like to shave their rugs unevenly to have a certain area appear more worn.
6. Once a rug is weaved, shearing is performed to make the pile even.
7. A part of the rug may have a high traffic area and may appear to be more worn then the rest of the rug.
8. Shearing helps remove fuzz from the rug. We shave the top of the rug fiber, which makes the rug design clearer and eliminates the fuzz. This process also leaves the rug with a glossy finish.
How To Shear (Shave) A Rug

We at Rug Wash maintain the highest standards. We perform a thorough final inspection to each and every rug. Our goal is customer satisfaction. We don't hesitate to repeat any steps that might be necessary to provide you with the best results possible. It's that final touch that means so much.
FREE Estimates
FREE Pick-Up & Delivery
FREE Drop-Off
NO Mileage Charges
NO Hidden Charges
Certified technicians
Fully Licensed, Insured and Bonded
Rug Wash, Inc. is located in New York City but offer our services nationwide. Contact us for more information (800) 784-9274