Rug Repair / Carpet Repair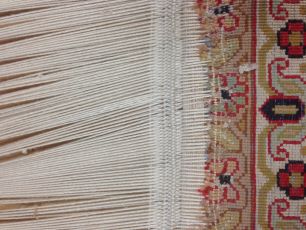 Rug repair is our specialty. We are doing repairs for decades for wholesalers, rug stores and private customers. We are offering high quality rug repair services to all clients throughout the United States. USA. We treat every rug with care, whether it is hand made or machine made. We classify the rug by the style, origin, condition, age and dye.
Rugs differ in many ways and each rug has specific assessments to the repair process. The experts at our facility will examine each rug individually and will be sure to pay close attention to the needs of the repair. They will be looking for wear and tear, pre-existing damage, color fading and stains.
It is important to repair any and all issues with your rug before other damages occur.
Our rug repair service includes the following kinds of repair:
Free consultation
Appraisal services
Repair & restoration
Antique rugs restoration
Tapestry restoration
Fixing holes & Hole patching
Restoration of color and designs
Binding repair
Spot and stain removals
Mildew treatments
Fringe repairs
Cut or add fringes
Padding custom fitted
Restoration to corners
Reweaving of the rug
Slits and rips repair
Bleeding of colors restoration
Pet damage restoration
Blocking for carpets
Moth proofing
Water damage restoration
Rug repair involves fixing or restoring a damaged rug to its original condition or improving its overall appearance. Here are some common rug repair techniques:
Patching: If your rug has a hole or a tear, patching can be done by replacing the damaged area with a matching piece of rug. A skilled rug repair specialist can blend the new patch with the existing rug to make it seamless.
Reweaving: In cases where the rug's fibers or threads are damaged or missing, reweaving is performed. This intricate process involves replicating the original pattern by weaving new fibers into the rug, matching the color, texture, and design.
Binding or Serging: The edges of a rug can become frayed or worn over time. Binding or serging is a technique used to reinforce the edges by stitching or applying a fabric tape to prevent further damage.
Cleaning and Restoration: Over time, rugs can accumulate dirt, stains, or discoloration. Professional cleaning can revive the rug's colors and remove stains. Restoration may involve color touch-ups, dyeing, or rejuvenating the pile to restore the rug's original beauty.
Blocking and Reshaping: If a rug has become misshapen or stretched out of proportion, blocking and reshaping can restore its proper dimensions. The rug is carefully stretched and manipulated into the desired shape and size and then allowed to dry in that position.
It's important to note that rug repair can vary depending on the type, size, and condition of the rug. For valuable or antique rugs, it is recommended to consult with us, as a professional rug repair service and specialists in rug restoration, to ensure proper care and preservation of the rug's value.
Commonly known issues that can cause damage to your rugs are: water damage, chemical damage, pet stains, sun damage, etc. Be very careful when adding chemicals to spots, as the spots may worsen. Our prices are very competitive and reasonable. Our workmanship is the best there is and our dedication belongs to you.
Repairs take time, precision and dedication and we take pride in our work.
Click here to watch some of our Rug Repair and Rug Restoration Videos
We at Rug Wash maintain the highest standards. We perform a thorough final inspection to each and every rug. Our goal is customer satisfaction. We don't hesitate to repeat any steps that might be necessary to provide you with the best results possible. It's that final touch that means so much.
FREE Estimates
FREE Pick-Up & Delivery
FREE Drop-Off
NO Mileage Charges
NO Hidden Charges
Certified technicians
Fully Licensed, Insured and Bonded
Rug Wash, Inc. is located in New York City but offer our services nationwide. Contact us for more information (800) 784-9274